Smart locker systems have received a boost in popularity that isn't going to be fading anytime soon. From a business standpoint, if the response to Covid 19 has done anything, it's propelled online shopping, shipping, and receiving technology into the future by around five years. This is why we will be discussing two of the top players in the industry: Luxer One vs. Parcel Pending
Mailrooms all over the world are being restructured to curb the spread of Covid. Still, they're also looking toward the future, making use of technology that provides benefits that will far surpass the threat of Covid.
Several smart locker systems are built to handle touchless, smart, and reliable service while protecting packages and other forms of post by several manufacturers. Here, we're going to have a look at two competing manufacturers- Luxor One and Parcel Pending.
But before we get into this head to head between these two companies, let's answer why a smart package locker system is a good idea and why this industry is experiencing an increase in popularity.
Why Smart Lockers are Great Investments for the Future
The short-term answer is an easy one- to cut the spread of Covid-19. But, Covid isn't going to be around forever, and these package handling lockers don't come cheap. This is why it's important to consider the long-term reasons.
Residential
If you've ever lived in an apartment building with several apartments per floor, then you'd know what it's like to have your packages waiting for you in the hallway coming home from work. If not in the hallway, then a message telling you that you've got to go out and pick it up since you weren't home to receive it. Does either scenario sound familiar?
Apartment buildings and condos that are equipped with a smart locker system eliminate these types of inconveniences. Theft of waiting packages, cluttered hallways, and damages are dramatically decreased through such package handling units and is a strong selling point to would-be renters.
Mailrooms
Aside from residential purposes, these parcel handling lockers simplify mailrooms in businesses and universities manifold. Despite these units' initial costs, long-term savings rack up through streamlining mailroom services. Less manpower is involved in the organization's package hub's upkeep and servicing, meaning less overhead.
As far as the two companies that we're going to be talking about go, both provide indoor and outdoor smart locker systems. This is a great solution for places that don't have space available within a structure to handle incoming and outgoing packages. This brings us to another reason these are a wise investment- security.
Package Security
Packages are tucked away into a locker safely under lock and key while awaiting their owner to come and receive them. Security protocols and designs are set into place to ensure that only the recipient of a package can retrieve anything from a locker.
Most units between these two competing manufacturers are equipped with extra security features outside of locked up items. Other external security devices are equipped with these units, increasing the unit's overall security as a whole and serves as a deterrent to would-be locker intruders.
Luxer One Vs. Parcel Pending – What Smart Locker System is Right for You?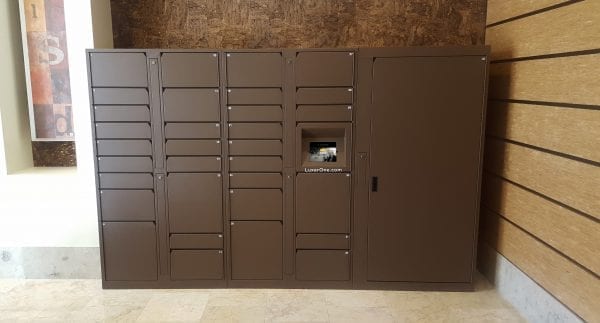 Luxer One Vs. Parcel Pending: Similarities
Because these two companies serve the same industry, there are many similarities between the postage hubs that they have available. Here is where they run along the same lines.
They both:
Make steel units that are powder-coated to provide handsome appearances and protection from rusting.
Offer built-in 24/7 surveillance with cloud storage.
Provide customizable designs, colors, or decorative skins.
Are compliant with ADA standards and are wheelchair accessible.
Equipped with internal hinges, keeping working parts safe from the elements and safe from any form of manipulation.
Notify users of deliveries via an app through mobile devices.
These similarities reflect the needs of their customers and the expectations cropping up in the industry. The following is going to talk about the differences between these two companies.
Luxer One – Sacramento, CA
Luxer One was established in 2013, with roots in the locker industry going back to 2005. They build parcel lockers to satisfy any needs in the residential, office, retail, and university categories.
Modular Door Design
Their units are unique compared to others for a couple of reasons. Among them is their modular door design. This makes switching out different sized locker doors in the field a snap, should the need arise to add larger or smaller doors.
Base Unit
The iOS-powered touch display and other electronic aspects are backed up by a battery, should anything happen to its main power source. Their main unit is a 15-compartment system that can be further customizable to add more sections or color/coating types.
CAD Files and Specs Downloads
On the Luxer One website, CAD files and specifications are available for download. The CAD files are good for designers and architects to use the files for placement purposes in designing a building or a customized layout for a building's section.
The specifications information is a great source of details that can help figure out how to best source a solution for the parcel pickup and delivery needs of a potential customer's situation.
Granite State Specialties is a registered dealer of Luxer One. Learn more here.
Parcel Pending- Irvine, CA
The origin of Parcel Pending was not of building parcel lockers but originally was a residential property management business. After noticing how much time and effort went into dealing with packages going to and from their 44,000 apartments, they took up the torch of simplifying their packaging delivery problem.
This led to the formation of Parcel Pending back in 2013. They have since been acquired by Quadient, a leader in the field, back in 2019.
Touch-Free Technology
Like the Luxer One system, their interface is a user-friendly touch screen, with the option to utilize their touch-free system. A barcode is sent to your mobile device, which is scannable by the interface. Once you show the barcode to the interface, the door containing your package opens up, and you're good to go.
This enables users to use their system without touching the keypad at all and is meant to create a safer user environment and add to the ease of use.
Open Delivery Sources
One of the largest advantages of this system is that it doesn't care who is doing the delivery. All delivery companies are recognized and can use their system, rather than a select few.
For the record: If Luxer One is equally open to multiple delivery companies, they didn't make it known in their literature. However, Parcel Pending does make it clear, and they call it being "Courier Agnostic."
Final Thoughts
Between Luxer One and Parcel Pending, it's difficult to find the differences between the two companies, or at least between their parcel locker units. Despite this, we've found a couple that you've read above.
Weighing out between the two products, Luxor One appears to be the most versatile when considering the overall unit. However, Parcel Pending appears to have a leg up in the "smart" category.
If it's the ability to make on-the-fly changes to the unit, go with Luxer One. But if it's the ease of use you're after, run with Parcel Pending.