SMART LOCKERS BY LUXER ONE
GS Parcel is your local Luxer One smart locker dealer that handles sales, design, and installation services.
INTUITIVE, EASY-TO-USE SMART PACKAGE LOCKERS
The carrier delivers the package to the locker, triggering recipient notifications with an access code.
The recipient receives a notification on their phone when a package is ready for pickup.
Recipient scans their access barcode at the locker and verifies their identification.
The assigned locker opens, and the recipient can grab their package.
SO, WHAT IS A SMART LOCKER?
Smart lockers are storage solutions that integrate cutting-edge technology to automate package delivery completely.
Carrier delivers the package to the smart locker, triggering recipient notifications with access codes.
Using the Luxer One Smart Locker app, the recipient receives a notification on their phone when a package is ready for pickup.
Then, the recipient scans their access barcode at the locker and verifies their identification.
The assigned locker opens, and the recipient can grab their package.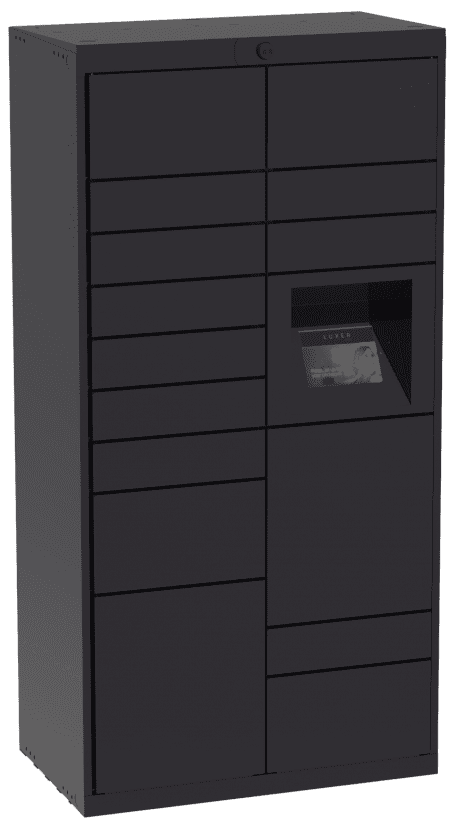 Indoor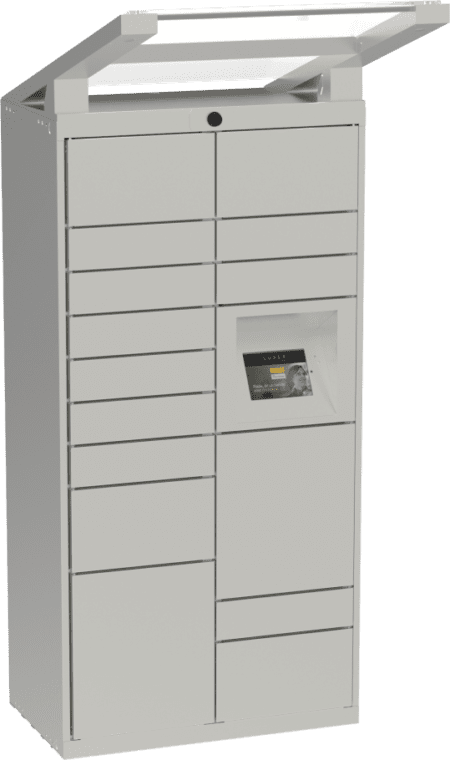 Outdoor
Main Unit
The main unit of the Luxer Smart Locker system contains an intuitive touchscreen, battery backup, electronics, and 15 components of various sizes.
WHAT ROLE DO SMART LOCKERS PLAY IN THE HYBRID WORKPLACE?
Now that offices are slowly reopening and the work-from-home setup is gradually coming back to the regular format, people have realized that some things have to change and improve.
The work-from-home structure was not a complete failure. In fact, people experience more productivity when they can focus on their work. While some employees want to get back to the usual setup, others feel like remote systems work best for them.
For this reason, many companies are thinking of ways on how to make the two conditions possible: the hybrid work environment.
WHAT IS A HYBRID WORK ENVIRONMENT?
A hybrid workplace is a business model that combines both remote and office work. This setup includes the onsite presence of a core group while others work from home. In some cases, it may mean people working part of the week from home and the rest of the week in the office. This setup offers flexibility for employees and can improve their productivity.
Many companies who consider the shift to this setup offer two usual implementation strategies:
In the hoteling strategy, employees must book the table, cubicle, or room in advance. They are free to use whichever office they prefer so long as they make reservations ahead of time. Then, they would have to check into a concierge to access the space. The whole experience is pretty much like booking a hotel room. It helps ensure that the employees secure the place that they want to work in.
Hot desking does not involve any reservations. It works like how a coffee shop works. All desks, rooms, and offices are available. It is up to who comes first to reserve the place they opt to work for. Therefore, the earlier you arrive, the freer you are to choose your workspace.
Companies perform these strategies for various reasons. Some believe it can create significant savings for their real estate costs, while others believe it is the best way to adhere to public health guidelines. Whichever route they choose, the two options can reduce the office's capacity and improve productivity.
THE DISADVANTAGES OF THE NEW WORK SET UP
While this option has its advantages, it also comes with its set of disadvantages—one of which is the lack of privacy or sense of ownership in an area. Because you share your space with anyone who needs and wants your old worktable, you cannot freely leave your things unattended.
But forward-thinking companies already have a plan to address this concern. Smart locker technology can help address the main problems of hybrid office workers. Since employees no longer have a permanent place to put their belongings, they are welcome to rent and temporarily store their belongings in these lockers should they need to leave for a meeting, a coffee break, a lunch break, and so on.
These smart lockers have many uses other than providing security for their items. They can also use this technology to store items or food delivered to them when they cannot receive them themselves.
The HR department can also use the storage lockers to give employees prizes privately. If other co-workers want to hand out their co-employees an important document personally but their schedule seems off, placing them in the smart lockers would be the best next choice.
More About Smart Lockers
Smart locker systems have become increasingly popular among consumers due to their convenience and security features. Luxer One is at the forefront of this movement, offering smart locker solutions that provide customers a secure and convenient way to receive parcels. The digital lockers are designed with biometric scanners, facial recognition technology, and encrypted cloud storage for customer data. Additionally, tracking software is integrated into smart lockers from Luxer One that allows businesses to monitor usage in real-time and adjust operations accordingly if needed.
The installation process for smart locker systems provided by Luxer One is simple and efficient. Typically all that's required is a power supply and internet connection, though certain models may require additional components depending on desired features and functions. Furthermore, companies can customize their smart locker system of choice from Luxer One to suit their unique needs, such as electronic display boards or RFID readers.
The convenience of using a smart locker system from Luxer One has increased popularity among customers who no longer need to wait in long checkout lines or deal with cashiers when picking up items they purchased online. Businesses also benefit from installing smart lockers since they reduce costs associated with staffing customer service representatives while enabling more flexible return policies, as customers can drop off returns at any time without worrying about leaving packages unattended for long periods.