Luxer One
We're entering an era where package delivery issues are going to become a thing of the past. Luxer One is a company that handles package delivery, focusing on current delivery issues, one of them primarily being delivery success rate.
There are a few reasons why a package couldn't be delivered to the requested address. Maybe the delivery was too big for the drop-off location, or maybe there's not enough space. It doesn't matter if that package is big, small, or needs to be refrigerated; Luxer One has multiple units for different types of security and package delivery needs.
Looking for Luxer One installation services? We're a team of professional Luxer One installers. Don't hesitate to contact us!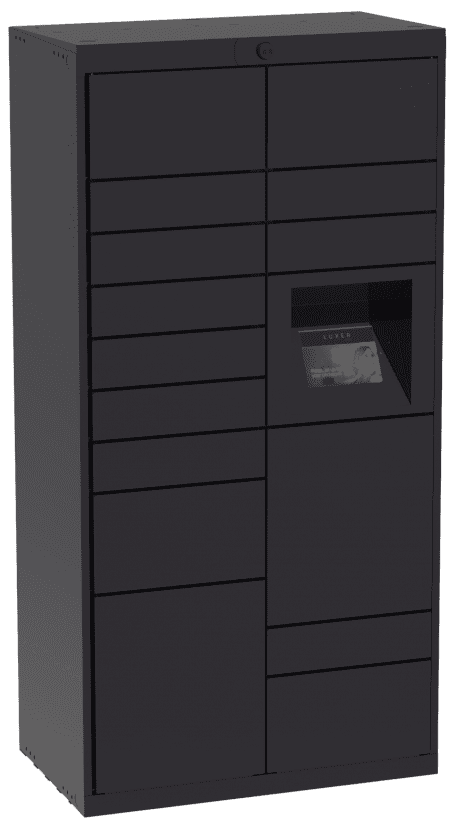 Indoor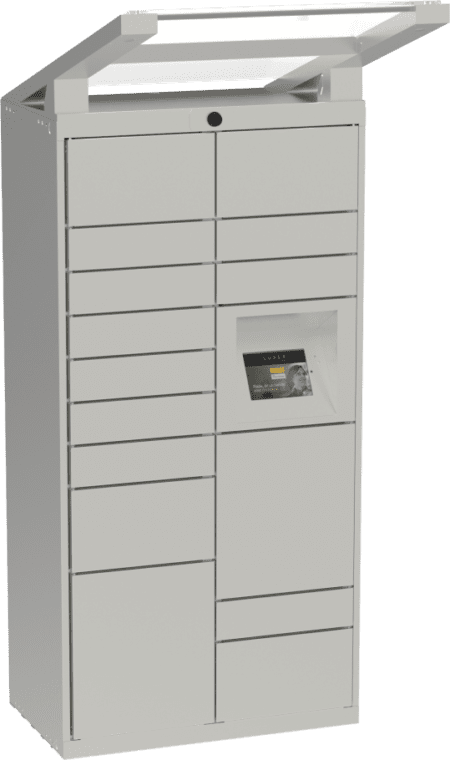 Outdoor
Main Unit
The main unit of the Luxer Locker system contains an intuitive touchscreen, battery backup, electronics, and 15 components of various sizes.
Luxer One Products
Inside and out, Luxer Package Lockers (and Rooms) are built to last and withstand the wear of time. Furthermore, there are five variations of the locker to choose from, all providing alternatives to suit your needs. Between the outdoor and indoor versions of the locker is a noticeable canopy for the outdoor version to help protect you from rain. These are perfect for various uses, such as college campuses, corporations, apartment complexes, mail centers, and more. Below, you'll find a brief list of differences between the five types of Luxer Lockers.
The Luxer Package Locker (Indoor & Outdoor)
The five types of indoor and outdoor lockers by Luxer One:
Main Unit: contains fifteen compartments with a battery backup and touchscreen interface.
Add-On Unit: provides seventeen small, medium, and large compartments.
All-Medium Unit: fourteen medium-sized compartments ready to take on most standard packages.
Four-Door Unit: four tall compartments for large packages, and they also come equipped with hooks inside the top of the locker for hanging various deliveries such as dry cleaning.
Oversized Unit: a large single compartment locker that can also be used as a backup for deliveries if smaller lockers are getting too full.
The Luxer One Refrigerated Locker
Built with the same integrity and technology as the multi-unit lockers, the refrigerated locker from Luxer One is pure quality. Not only would it be perfect for securing and maintaining delicate foods in a restaurant or kitchen environment, but it's created to accept perishable deliveries and keep them secure. The locker also comes with shelves that can be adjusted to fit the delivery or storage needs. With natural, environmentally friendly refrigerant, Luxer One's reliable security technology, while manufacturing handled in the USA, this is a reliable storage option for deliveries needing proper refrigeration.
Locker Room from Luxer One
Luxer Room handles package delivery on a larger scale with added security such as personal access codes for delivery drivers and text notifications for the recipients, a piece of technology that can upgrade any storage or mail room. A touchscreen mount is included, compatible with most electronic access control hardware, and an additional touchscreen inside the package room itself.
Additionally, the iOS-powered terminal is modular and can be applied for large rooms, down to the individual Luxer One Lockers themselves. Not only does this system provide visual and physical security of the packages, but it also keeps a log of who goes in or out via access codes. With this many levels of security, they essentially eliminate any fear of theft or ill-intent.
Market Applications & Use Cases
Sure, it's understood that Luxer One has the package delivery system on lockdown, but how many real-world applications are there for such an advanced multi-level locker system? If you continue reading, you'll find multiple use case scenarios and various marketing applications for Luxer One products.
Universities
First and foremost, Universities tend to have thousands of people walking around at all times, not to mention it can take quite a bit of time to travel across campus. Since the mailman isn't knocking on every single classroom door and dorm room, it's best to have someplace secure for deliveries. Any University could easily use an indoor and outdoor locker unit from Luxer One.
Residential Housing and Apartments
No matter the quality of the residential area or apartment complex, theft happens from time to time. Furthermore, people aren't home 24/7 to look out for their packages, nor do they always have a dedicated space for safe delivery. The technology applications that Luxer One implements with its lockers would put an end to that issue indefinitely. They also provide various color options, giving you a chance to have the locker fit in with its surrounding.
Corporate Offices
For the most part, corporations are sending and receive packages every day, so they're no stranger to organizing and securing the endless deliveries that arrive to keep their business running. Knowing this fact, security must be at its highest level, as each delivery has a purpose and a place to be. If said package never made it to its recipient due to lousy organization or a delivery hiccup, it could affect many jobs and work schedules.
Libraries
Libraries have thousands of books and documents to keep organized, not to mention some of that material is rich in history and should be stored away correctly. Additionally, people are returning books daily, which could be an excellent application for the access code feature of the Luxer One technology. Instead of having a messy drop-off area or having a line of people waiting for their books to be checked in, you could access a self-service drop-off compartment.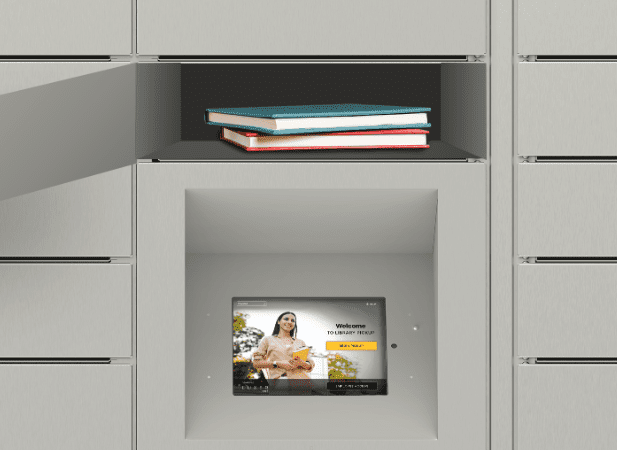 Retail
Regardless of which retail environment you work in, packages come in constantly, and every item has to be accounted for. This would also be an excellent market for Luxer One Refrigerator Locker for the various food that's delivered. The adjustable shelving and modular compartments of each locker system will allow you to keep every kind of delivery organized and ready for check-in before it hits the sales floor.
Mail Centers
The one place Luxer One products and technology integrations are going to excel genuinely would be Mail Centers. The best part is that they can take the Luxer Room technology and touchscreen mount and integrate it into their current operations with a breeze. Not only increasing efficiency but heightening the security of people's mail.
In Conclusion
It's no question Luxer One Package Lockers are at the top of their class. They provide multi-layered security, a quality build with trustworthy manufacturing of corrosion-resistant steel, and an adaptable design across a wide range of markets. Their in-house software can automatically return to sender and put deliveries on hold, and Luxer One provides 24/7 support and dedicated support for carriers. You can expect the Luxer One Parcel Lockers to range from roughly $6,000-$20,000 based on type and configuration.